Top Rated
Beaumont Sanitizing
As we have all seen, the number of COVID-19 cases is on the rise throughout the United States.  As a community, a business person, a caregiver, a homeowner, and any other role that we all play in society, it is imperative that we do our part to help stop the spread of this virus.  The professional team from Hydro-Clean Services, Inc. is trying to do our part, by providing cleaning services that will sanitize and disinfect residential and commercial buildings throughout our beloved Golden Triangle, and beyond.
If you have been searching for online links, such as; coronavirus cleaning Beaumont, decontaminating Beaumont, disinfecting Beaumont, or sanitizing Beaumont, then you have come to the right place.  With many years of experience in the cleaning industry, the experts from Hydro-Clean Services is now able to provide sanitizing and disinfecting services that are geared towards COVID-19 cleaning and protection.
Hydro-Clean Services has partnered with the United States Environmental Services to provide highly trained technicians that are qualified in biohazard cleanup and recovery. Our emergency response team's professionally trained technicians follow a protocol to ensure thorough and appropriate decontamination will be performed at your facility. We also offer Thermal Pre-Screening for site entry clearance.
We are the Decontaminating Beaumont Experts!
We know that you want to feel confident in your home, in your workplace, in your grocery store, in your doctor's office, and anywhere else in the community where you spend your time, during this challenging pandemic.  We have accumulated our professional knowledge that we have acquired over the years, and have developed a COVID-19 cleaning system that we now offer to all of our residential and commercial customers.
We have the ability to test various surfaces within your home or office, in order to check for contamination particles.  Then, we use a combination of professional-grade cleaners and equipment, in order to perform a thorough decontaminating process, leaving you with an indoor environment that you can feel safe in, and trust that you are in the cleanest area possible.
Call Today for Coronavirus Cleaning in Beaumont and the Surrounding Areas!
Our trained team members take all necessary precautions, in order to keep you safe, as well as to protect themselves.  We know that you have put your trust in us, to provide you with the most thorough coronavirus cleaning that we know how to perform, and we take this job very seriously.  Our goal is to help keep Beaumont safe, and we believe, that through our methodical cleaning practices, that we can do just that, for our residential and commercial clients.
If you would like to learn more about our COVID-19 cleaning practices, then please contact Hydro-Clean Services, Inc. today.  We always offer a free estimate for a potential project, as well as detailed information about each service. Contact us today for Risk Assessment for the Cleaning and Forensic Restoration in Response to 2019nCoV (Wuhan Coronavirus).
Disclaimer: The chemical we use will kill all viruses and bacteria within 5 hours. All surfaces cleaned will remain virus and bacteria free for 5 days. Hydro-Clean Services is not liable for any viruses and bacteria reintroduced by someone infected after 5 days upon complication of work.
Look For The Shield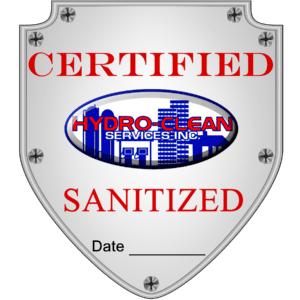 .