Located to the east of the major city of Houston, Groves is home to just over 17,000. While Texas is known as the land of big open spaces, it, unfortunately, wasn't spared from the Covid-19 pandemic. The disease continues to evolve, and new variants are always emerging. Just when it seems like Covid-19 is defeated for good, it seems like a new sub-variant causes a spike in cases once again. While we may never be totally rid of Covid-19, there are ways that we can continue to fight the disease and limit its spread as much as possible.
Each of us has a role to play in helping to limit the spread, and it's imperative that we all do our part. If you want to ensure that you're doing everything you can to promote a clean and healthy environment, be that at home or your place of business, then you need to look into professional sanitizing and disinfecting services. If you want the best sanitizing services in Groves, TX then you need to look at the professionals at Hydro Clean!
Top-Rated Coronavirus Cleaning in Groves
The experts at Hydro Clean bring to the table many years of cleaning and sanitizing experience and we are focusing our expertise to tackle germs and viruses such as Covid-19! By partnering directly with the US EPA, we are able to bring highly skilled and experienced sanitizing staff to handle the toughest disinfecting and cleaning jobs. Our top-rated coronavirus cleaning service is the only one in the area to employ specialized, certified technicians to disinfect and sanitize residential and commercial properties in Groves, TX. Hydro-Clean understands that proper sanitization takes proper planning, as well as a flawless execution with the most modern tools that fit the ever-changing landscape of Covid-19.
Our top-rated coronavirus cleaning service is more than just a deep clean, we start with a full site risk assessment to develop a plan of action to sterilize your property best. After our assessment and planning have been completed we will begin a preventative sanitization and pre-disinfecting regime which will help ensure that we will be eliminating as much bacteria as possible. Finally, we break out the big cleaning equipment to eliminate covid-19, strep, and much more to ensure your property has been fully cleaned, sterilized, and is safe for you, your family, and your customers! Don't wait until you have a confirmed case of Covid-19 to call, we can help eliminate viruses before they become a problem!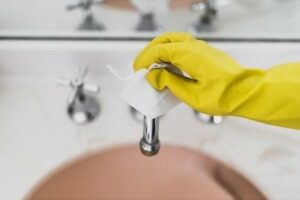 Searching for Covid-19 Cleaning Near Me?
Imagine how many hours are dedicated to cleaning homes and businesses, when you add in the time that is already being spent to fight off diseases like covid-19, it can seem completely overwhelming. If you're searching for Covid-19 cleaning near you in Groves, trust the experts at Hydro-Clean. Our expertly trained and EPA-certified team will arrive will all of the equipment needed to totally clean and revitalize your home or business. Hydro-Clean can even perform deep cleaning services of industrial properties and office spaces, there is no job we cannot take and no virus we cannot beat! We want all of our customers to feel safe and comfortable in their homes or businesses, and we will treat you like family every step of the way.
Professional Disinfecting Groves Residents Trust
Hydro-Clean has been in business for over two decades and is the professional disinfecting service that Groves residents trust. Our emergency response teams follow EPA guidelines and protocols to make sure that all decontamination services are thorough and complete. We have earned our reputation as the best disinfecting service in Groves by treating our customers like family, and their properties like our own. You have our promise that we will take the utmost care of your home or business during every step of our disinfecting service. When we're done, you won't even believe your eyes at how clean your property is!
We also offer top-rated pressure washing and vent-a-hood cleaning services!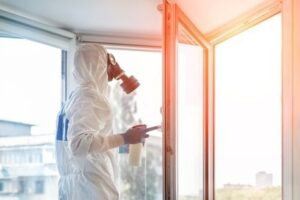 Call Today for Sanitizing & Decontaminating in Groves, TX!
We understand that the thought of Covid-19 and other viruses is stressful for many people. It's hard to face off against an unseen enemy that disrupted life for so many of us and seems even today to be rearing its ugly head from time to time. While we know the war can never truly be won as new variants will always emerge, the team at Hydro-Clean is ready. Our professional cleaning crews are highly trained, EPA certified and fully licensed to perform the most thorough deep cleaning and disinfecting services in Groves, TX. Don't let another day go by and allow more germs and viruses to get a foothold in your beloved home. Call today for more information, or to book a sanitization appointment, and get your property professionally disinfected with Hydro-Clean! You can also visit us online to request a free quote and one of our team will get back to you soon!