Located just southeast of Beaumont, is the quiet area of Groves, Texas.  Groves is home to about 20,000 residents, and it is a place that has plenty to offer to everyone in the vicinity.  From local parks, restaurants, shopping destinations, and entertainment venues, people have plenty of options for interesting things to see and do.  If you are a property owner in the area, then perhaps you have been looking for one of the best pressure washing Groves has to offer.  Well, look no further than our company, Hydro-Clean Services, Inc.  We are a full-service exterior cleaning company, and we offer superior services for residential, industrial, and commercial pressure washing Groves has available.
Top-Rated Pressure Washing in Groves
Hydro-Clean Services, Inc., has been in operation since 1991.  We have acquired the experience, the skills, and the knowledge that is needed to tackle all types of exterior cleaning projects, as well as providing superior Vent-A-Hood cleaning, too.  If you are unfamiliar with the Vent-A-Hood system, this is a type of venting system that is used in industrial kitchens or anywhere else where large amounts of food is prepared on a regular basis.  Ensuring the cleanliness of this venting system is important, in order to ensure safety and healthfulness of the facility. 
Searching for Commercial Pressure Washing Near Me?
In addition to hood cleaning Groves, we also offer other types of pressure washing services, including; power washing and concrete cleaning Groves.  Our aim is to be your one-stop-shop for all of your personal or business-related cleaning projects.  We know that our customers depend on us to provide them with exquisite services, because we know that your property, or properties, are very important to you. Not only do we offer pressure washing and hood cleaning services but we are also proud to now offer sanitizing in Groves as well as disinfecting Groves. If you have been searching for a trustworthy decontaminating Groves company, look no further than Hydro-Clean services. In order to help our customers during these trying times, we now offer covid-19 cleaning in Groves and coronavirus cleaning Groves!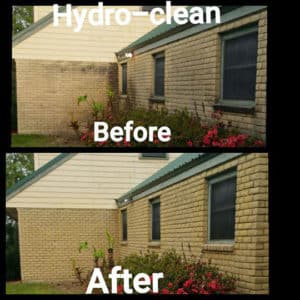 Professional Power Washing Groves Residents Trust
If you have pressure washing, exterior cleaning, or hood cleaning projects that are on your list of things to complete, then please let the experts from Hydro-Clean Services, Inc. take care of the work for you.  We offer free estimates on any potential project, as well as detailed explanations of the services to be provided.  We look forward to working with you anytime of the year!
Call Today for Concrete Cleaning in Groves, TX!
Disclaimer: The chemical we use will kill all viruses and bacteria within 5 hours. All surfaces cleaned will remain virus and bacteria free for 5 days. Hydro-Clean Services is not liable for any viruses and bacteria reintroduced by someone infected after 5 days upon complication of work.