Sustaining the value and aesthetic quality of your property can be quite difficult, these issues are oftentimes amplified due to the lack of access to necessary tools and equipment. There are several different factors that must be taken into consideration before cleaning your property. These factors include the type of material used in the construction of your property, its exterior layout, and much more. At Hydro Clean Services Inc. we possess advanced tools and technology which allow us to deliver long-lasting results.
Vidor Power Washing and Pressure Washing Pros
Our pressure washing technicians are thoroughly trained and certified in various techniques, so you can rest assured that you're receiving top-quality service. Every home is made using a different set of build materials, which is why we adjust our power washing approach to meet the needs of our clients on an individual basis.
We use powerful detergents and targeted cleaning techniques that directly address dirt, grime, and other substances. Our pressure washing services are compatible with virtually any exterior area of your home, which includes fences, roofs, decks, sidewalks, and more. Once we're finished, your exterior property finish will be restored to its original condition. Cleaning your exterior property finish on a regular basis will help extend its overall lifespan.
Concrete is constantly exposed to external factors including algae, mold, and other contaminates. Over time, these substances can begin to degrade the quality of your concrete finish. Our concrete cleaning services are designed to effectively remove all surface contamination in addition to the bacteria underneath the surface. After we're finished, your concrete will be protected from the onset of future damage and will also look brand new.
Concrete Cleaning & Commercial Pressure Washing Vidor Services
For commercial kitchen owners, hood cleaning is one of the most vital parts of maintaining the cleanliness of your operation. We are equipped with the knowledge and tools needed to remove grease accumulation and other contaminants from your hood permanently. By cleaning your ventilation hood on a consistent basis, you will be able to sustain optimal health in your commercial kitchen.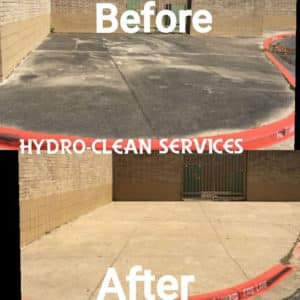 Our Commercial Pressure Washing services help business owners maintain pristine properties. We can clean virtually any area of your commercial property, including parking lots, entryways, and more. By cleaning your commercial property on a regular basis, you will be able to sustain consistent traffic.
If you're interested in receiving a free service quote, simply visit our website or give us a call to get started. Our pressure washing services come backed by a 100% service guarantee, which ensures that your property is protected in the event of any accidents during the cleaning process. Our power washing services are available to all property owners located in Vidor, TX. 
We are the Disinfecting Vidor TX Experts!
Did you know Hydro-Clean Services, Inc., now offers disinfecting Vidor, TX services? As the pandemic spreads across the country it is important to keep your home or commercial property as clean and sanitized as possible. If you have been searching for coronavirus cleaning in Vidor or COVID-19 cleaning Vidor, TX, look no further! We have the tools and experience needed in order to provide only the best disinfecting, sanitizing, and decontaminating Vidor services! Don't waste your time decontaminating in Vidor and let the pros at Hydro-Clean Services do the job for you! Call us today for more information on our sanitizing Vidor services or click HERE.
Contact us at Hydro Clean Services Inc today so we can help you maintain a pristine property!
Call Today for Coronavirus Cleaning in Vidor
Disclaimer: The chemical we use will kill all viruses and bacteria within 5 hours. All surfaces cleaned will remain virus and bacteria-free for 5 days. Hydro-Clean Services is not liable for any viruses and bacteria reintroduced by someone infected after 5 days upon complication of work.