Searching For Commercial Pressure Washing Near Me?
Are you looking for commercial pressure washing near me? When you're searching for a reliable pressure washing company, you must find a company that can handle commercial properties, as they are big jobs and requires the proper techniques, equipment, and products that will be able to truly get your property clean. When you need the best in the area that can handle even the toughest of jobs, you can count on Hydro-Clean Services Inc.
Commercial Pressure Washing Beaumont, TX Locals Rely On
Hydro-Clean Services Inc. is a trusted name in the area that's been providing top-rated commercial pressure washing in Beaumont, TX, and surrounding areas for over thirty years. Over the years, we've learned which methods, products, and techniques work best to provide you with the results that your business needs and deserves. We use top-of-the-line equipment and safe cleaning products when cleaning your property to keep your landscaping, customers, and employees safe throughout the process. Our team is also licensed and fully insured with workers' compensation to give our customers peace of mind knowing that our team is trained and will strictly follow safety protocols and take extra safety precautions throughout your commercial pressure washing service. We look forward to showing you what professional, careful, and high-quality results look like when we transform your property with our commercial power washing service.
Due to the foot traffic that your business sees, it's not uncommon for your property to become filthy quickly. Not only does your property have to face weather conditions, organic material growth, and dirt, but it also has to handle foot traffic, spills, and graffiti. When neglected, these materials will accumulate and can cause damage to your property. While the exterior surfaces of your business are strong enough to serve the purpose of protecting your merchandise, employees, customers, and electronics, there's only so much wear and tear that they can handle. Unfortunately, even the toughest surfaces aren't made to last forever, and without the proper care, maintenance, and cleaning, they will break down sooner rather than later, which will result in needing to repair or replace them prematurely. A routine commercial pressure cleaning service will effectively eliminate unwanted materials, prevent damage to these surfaces, and extend their lifespan. We offer a wide range of commercial pressure washing services to ensure that practically your entire property will get the dedicated cleaning it requires and to fully meet your pressure washing needs. Some of the services we offer include: building washing, parking lot pressure washing, sidewalk cleaning, and more.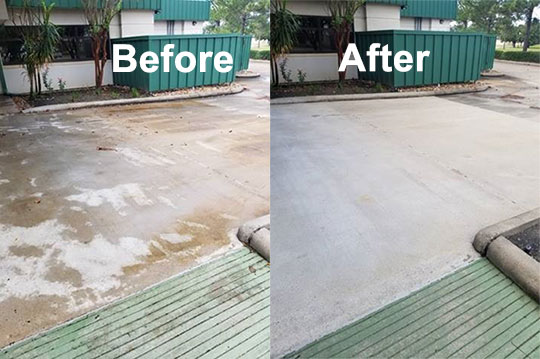 Top Parking Lot Cleaning Services In The Area
Parking lots and other concrete areas are often high-foot traffic areas. Unfortunately, without the proper upkeep, the foot traffic will begin to show quite quickly. Whether there's dropped food, chewed gum, scuff marks, oil spills, or other debris in your parking lot, it could deter customers from wanting to come to your place of business. No one wants to dodge or walk over trash to get inside your business. While it's often thought that your parking lot doesn't reflect your business, it does. Your parking lot correlates with your business, and the state and cleanliness of your parking lot will still reflect how customers view your business.
Concrete that's also covered in spilled oil, mold, or large debris could become a safety hazard. Spilled oil can be quite slippery and large debris, like dropped food could make it simple for a customer to trip or slip and fall. Dirty concrete isn't only unsightly, but it could be dangerous for your staff or customers. Unfortunately, for your parking lot to get the most out of a cleaning, it needs to be done correctly. If debris were to be overlooked or a stain was to be missed, it would still stick out and divert your attention to the problem areas. You need a company that won't skip out on any steps, one that will get your commercial power washing in Beaumont, TX completed correctly the first time around, and one that can handle large and filthy parking lots. You can trust that our team can handle practically any job thrown at us with our high-quality commercial concrete cleaning service. Our parking lot cleaning service will blast away any debris, lift stains, and sanitize the area to create a safer and healthier environment.
Contact Us Today For The Best Commercial Pressure Cleaning In Beaumont, TX
Are you looking to make the appearance of the outside of your business more presentable and safer for your customers and employees? Our commercial pressure cleaning in Beaumont, TX, is the perfect way to boost the curb appeal of your property and give it a more professional look. For more information, make sure you contact us today!
We also offer the following services in Beaumont, TX: