Approximately 2,000 people call Sour Lake their home. This quiet community, which was originally dubbed "Sour Lake Springs", is best known for being the original home of the Texaco oil company. Located just northwest of Beaumont, Sour Lake is a small, historic town, which is close enough to the larger city and has plenty of amenities and conveniences to offer. If you have been searching for some of the best pressure washing Sour Lake has to offer, then remember our company name, Hydro-Clean Services, Inc. We are a full-service pressure washing, exterior cleaning, and hood cleaning company, and we welcome the chance to work with you anytime.
Sour Lake Power Washing Pros
The professionals from Hydro-Clean Services, Inc. are equipped and experienced in working with a variety of residential, commercial, and industrial properties. We are able to provide services for properties that other pressure washing Sour Lake companies cannot because we have the equipment, the experience, and the expertise. From a simple concrete cleaning Sour Lake, such as a driveway or walkway, to a power washing service at an industrial location, to some of the best commercial pressure washing Sour Lake has available, our team members are willing and able to take care of all of your tough cleaning projects.
We know that your home or your business is an important aspect of your daily living, and we do everything that we can to enhance your place with our dedicated and thorough workmanship. Customer satisfaction is our number one priority, and we want to earn your trust and your loyalty, as we provide remarkable services for your home or business. Aside from our power washing services, we also offer expert Vent-A-Hood cleaning services to Sour Lake and the surrounding areas!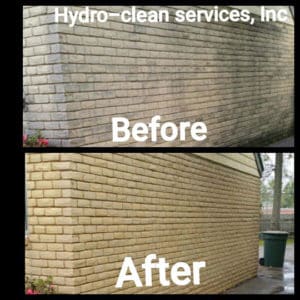 Concrete Cleaning & Commercial Pressure Washing Services
Our company is fully licensed, and we also have Worker's Compensation Insurance, so you can rest assured knowing that we will follow all safety guidelines, and we will do everything in our power to protect your property and everyone around your property.  The professional team from Hydro-Clean Services, Inc. gladly offers free estimates for potential projects, so please contact us if you would like to meet with one of our representatives. We look forward to hearing from you anytime!
We are the Decontaminating Sour Lake TX Experts!
Here at Hydro-Clean Services, Inc., we are happy to offer sanitizing Sour Lake services. These include disinfecting and decontamination of both residential and commercial properties. If you have been searching for covid-19 cleaning in Sour Lake or coronavirus cleaning Sour Lake, look no further than Hydro-Clean Services, Inc. Each of our decontamination Sour Lake experts has the necessary equipment and tools to ensure your property is fully sanitized and disinfected. Give us a call today to learn more about our disinfecting Sour Lake services or click HERE.
Disclaimer: The chemical we use will kill all viruses and bacteria within 5 hours. All surfaces cleaned will remain virus and bacteria-free for 5 days. Hydro-Clean Services is not liable for any viruses and bacteria reintroduced by someone infected after 5 days upon complication of work.
CALL TODAY FOR CORONAVIRUS CLEANING IN 
SOUR LAKE TX