Property maintenance is one of the easiest ways to sustain the overall value of your home over prolonged periods of time. However, without the right tools or equipment, you won't be able to achieve the level of sanitization that you desire. At Hydro Clean Services Inc, our team has 28+yrs of experience in the industry which is translated through every cleaning project that we undertake. Due to our dedication to superior service quality, we are recognized as being one of the leading pressure washing companies in Port Arthur, TX.
Port Arthur Power Washing Pros
Our power washing experts are equipped with industry-leading equipment, these tools allow us to thoroughly clean every inch of your property exterior. All of our pressure washing technicians are certified and trained, so you can be confident in the quality of results that you experience at all times.
Keeping your home's exterior clean and dirt-free can be challenging. However, it's essential if you want to sustain the quality of your home over time. We can help you remove set-in dirt, grime, and other contaminants from your house siding permanently. By using our specialized eco-friendly cleaning detergents, your exterior property finish will be restored to its original condition.
Our power washing services are compatible with various surfaces, including sidewalks, patios, fences, decks, roofs, and more. Due to the concentrated nature of our cleaning solutions, we're able to effectively remove substances including mold, algae, pollen, grime, and more. Your exterior concrete finish will become stained and damaged over time, this can be caused due to a variety of reasons. Our concrete cleaning services are effective at removing hard set-in chemical run-off, debris, grime, and more. We use powerful detergents which directly target bacteria on the surface while also penetrating deeper, this results in a comprehensive clean that leaves your concrete looking like new.
Concrete Cleaning & Commercial Pressure Washing Services
Owning a commercial kitchen comes with a lot of responsibilities, the main one being the proper upkeep of its sanitary condition. A dirty ventilation hood can pose a serious fire hazard which is why it's so important to sanitize it. Our hood cleaning services in Port Arthur are designed to remove accumulated grease and other contaminants from your ventilation hood, this, in turn, creates a much healthier environment in your kitchen overall.
We also offer commercial pressure washing services to help business owners maintain a sanitary and uniform business image. Our team is capable of cleaning commercial areas such as parking lots, awnings, entryways, and much more. Once we're finished, your business will look great to potential customers which can help increase revenue.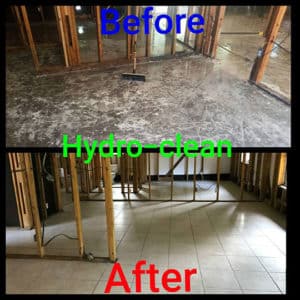 If you're interested in our power washing services and would like a free quote, feel free to fill out the form on our website or give us a call. All of our pressure cleaning services are backed by a 100% service guarantee, which protects you in the event of any accidents during the cleaning process. Our power washing services are available to all property owners located in Port Arthur, TX.
Call Now for the Decontaminating Port Arthur TX Experts!
We are also very happy to offer our disinfecting Port Arthur and sanitizing Port Arthur services! We know that coronavirus cleaning in Port Arthur is a sought-after service. This is why we have equipped our team with state-of-the-art decontaminating equipment in order to provide COVID-19 cleaning in Port Arthur, TX. If you have been searching for a professional decontaminating Port Arthur company, look no further than Hydro-Clean Services, Inc. Give us a call today or click HERE to learn more about our sanitizing and disinfecting services.
Disclaimer: The chemical we use will kill all viruses and bacteria within 5 hours. All surfaces cleaned will remain virus and bacteria-free for 5 days. Hydro-Clean Services is not liable for any viruses and bacteria reintroduced by someone infected after 5 days upon complication of work.
NOW OFFERING CORONAVIRUS CLEANING IN
PORT ARTHUR

 TX!

Contact us at Hydro Clean Services Inc. today so we can help you maintain a pristine property!